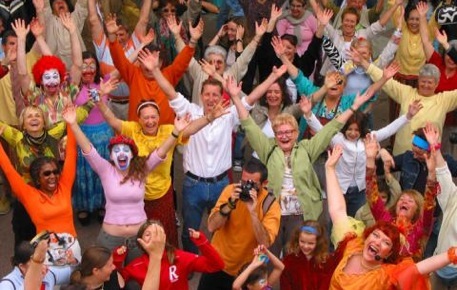 Last year I joined a support group for procrastinators. We haven't met yet!
***
Why did the blonde use the following for her computer password:
"Mickey Minnie Pluto Huey Louie Dewey Donald Goofy Sacramento"?
The login instructions read: "It must be at least 8 characters long and include at least one capital."
***
ATHEISM IS A NON - PROPHET ORGANIZATION.
WHAT DO YOU DO WHEN YOU SEE AN ENDANGERED ANIMAL - EATING AN ENDANGERED PLANT?
WHY DO THEY PUT BRAILLE ON THE DRIVE-THROUGH BANK MACHINES?
HOW DO THEY GET DEER TO CROSS THE ROAD ONLY - AT THOSE YELLOW ROAD SIGNS?
DOES THE LITTLE MERMAID WEAR AN ALGE BRA?
HOW IS IT POSSIBLE TO HAVE A - CIVIL WAR?
IF YOU ATE BOTH PASTA AND ANTIPASTO, WOULD YOU - STILL BE HUNGRY?
IF YOU TRY TO FAIL, AND SUCCEED - WHICH HAVE YOU DONE?
WHY ARE HEMORRHOIDS CALLED "HEMORRHOIDS" INSTEAD OF "ASSTEROIDS"?
WHY IS IT CALLED TOURIST SEASON IF WE CAN'T SHOOT AT THEM?
CAN AN ATHEIST GET INSURANCE AGAINST - ACTS OF GOD?
---
---
---
Tonto asks the lone ranger
The Lone Ranger and Tonto went camping in the desert.
After they got their tent all set up, both men fell sound asleep.
Some hours later, Tonto wakes the Lone Ranger and says,
'Kemo Sabe, look towards sky, what you see? '
'The Lone Ranger replies, 'I see millions of stars.'
'What that tell you?' asked Tonto.
The Lone Ranger ponders for a minute then says:
'Astronomically speaking, it tells me there are millions of galaxies and potentially billions of planets.
Astrologically, it tells me that Saturn is in Leo.
Time wise, it appears to be approximately a quarter past three in the morning.
Theologically, the Lord is all-powerful and we are small and insignificant.
Meteorologically, it seems we will have a beautiful day tomorrow.
What's it tell you, Tonto?
"You dumber than buffalo shit. It means someone stole the tent"
---
---
---
---
I dialed a number and got the following recording:** **
"I am not available right now, but Thank you for caring enough to call.
I am making some changes in my life. Please leave a message after the Beep.
If I do not return your call, You are one of the changes."
---
---
The Deaf Bookkeeper

A Mafia Godfather finds out that his bookkeeper, Enzo, has cheated him out of 10 million bucks. His bookkeeper is deaf.
That was the reason he got the job in the first place.
It was assumed that Enzo would hear nothing that he might have to testify about in court.

When the Godfather goes to confront Enzo about his missing $10 million, he takes along his lawyer who knows sign language.

The Godfather tells the lawyer, "Ask him where the 10 million bucks is that he embezzled from me."

The lawyer, using sign language, asks Enzo where the money is. Enzo signs back, "I don't know what you are talking about."

The lawyer tells the Godfather, "He says he doesn't know what you are talking about."

The Godfather pulls out a pistol, puts it to Enzo's temple and says, "Ask him again!"
The lawyer signs to Enzo, "He'll kill you if you don't tell him.."

Enzo signs back, "OK. You win!
The money is in a brown briefcase, buried behind the shed in my cousin Bruno's backyard in Woodbridge !"


The Godfather asks the lawyer, "What did he say?"
The lawyer replies, " He says you don't have the guts to pull the trigger."

---
Our Mexican maid asked for a pay increase. My wife was very upset about this and decided to talk to her about the raise.