Really living, through journalism : Albert Sévigny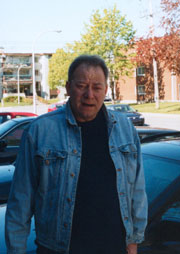 by Kate Shingler

Albert Sévigny surprised everyone, including himself, by becoming a journalist. Now it's virtually all the Montreal-born former scrapyard owner wants to talk about.

He's adept at diverting personal questions, steering the conversation back to his favourite topics, which include current events, academic life, and the antics of local public figures and biker gang members.

Sévigny, 52, graduating this spring with a journalism degree, his second BA from Concordia. He was a more conscientious student this time around: "If I got anything less than a B-plus, I'd have a heart attack." He hopes eventually to get a master's degree in journalism.

With a steady gig at The Suburban, Quebec's largest English weekly newspaper, he has no plans to become a staff reporter. "As a freelancer, you can pick and choose. If you're full-time, you end up covering the ladies' sewing circle."

In November 1992, after a night of carousing with well-known Gazette columnist Nick Auf der Maur, Sévigny was inspired to replace the head of the statue of John A. Macdonald in Dorchester Square, which had been destroyed by vandals. Within three months, he raised the $40,000 needed to replace the 140-pound head, partly by soliciting among the well-heeled.

The son of former Conservative cabinet minister and part-time Concordia Finance Professor Pierre Sévigny, Albert has two children, and lives with his 17-year-old daughter Christina in N.D.G.

He credits the Concordia journalism program with changing his focus, calling the day he received the department's acceptance letter the happiest of his life. "When I found out I'd been accepted, I'd been sitting around chopping up motors in the scrapyard." He liked his Concordia professors, calling them "hands-on working journalists, not top-heavy on theories."

This summer, he's saving to cover the upcoming Lucian Freud retrospective at the Tate Britain art gallery in London. In the meantime, he's working on a story about the uproar over a McDonald's restaurant moving to Westmount's genteel Victoria Village, and preparing by reading Eric Schlosser's Fast Food Nation: The Dark Side of the All-American Meal.