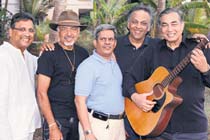 Should old acquaintance be forgot? from l to r: Napoleon Braganza (drums); Suresh Bhojwani (bass guitar); Michael Kirby (lead guitar), Ashok Daryanani (manager) and Malcolm Mazumdar (rhythm guitar) in Goa
GRANPAS can get you grooving that is what The Jets, Mumbai's Beat Group of the '60s is all out to prove. The band that was formed in 1964 and disbanded in 1966 is coming back for one last hurrah after 43 years in a real life version of the film, Rock On!!. The four-member beat group is all set to play Blue Frog on March 7, 2009.

The band comprises four musicians, Suresh Bhojwani, Malcolm Mazumdar, Michael Kirby and Napolean Braganza and their manager Ashok Daryanani who is with them for this gig. The band members, scattered all over the world, have flown in to Mumbai for their gig and have been practising since the past 8-10 hours every day at an, "undisclosed location away from prying ears and eyes in Goa," says Ashok.

In the swinging '60s The Jets band was an integral part of Bombay's musical mosaic. It used to play at The Ambassador Hotel, The Taj Crystal Room or the Sun 'N' Sand in Mumbai where the sound of the waves crashing against the rocks outside made a perfect backdrop to a band inspired by The Beatles and The Shadows.
Says Devieka Bhojwani, wife of Suresh Bhojwani, Those days there were many 'beat shows' where groups from Mumbai would often play at school socials or restaurants, even during the day at 'Venice' or 'Bambelis'.

Ashok brings back a whiff of the '60s flavour, evoking images of then Bombay rocking to movements that defined the '60s decade like Flower Power, The Beatles, Peacenik Signs and hippies Bohemia as he adds, "To play in the city was simply fantastic then! Bombay (Mumbai now) was a vibrant diverse city with an enormous appetite for Rock 'n' Roll music. There were at least a dozen venues that featured western music daily. Beat groups from all over India came to Bombay and there were concerts, dances and shows all through the year."

Nearly half a century on, some of that zingy excitement is evident in the fact that people who have more salt than pepper in their hair now, are hyping up the return of The Jets. The Campion School website has a link to the return of The Jets says, 'Over 40 years later, The Jets reunite for a one-night-only performance at the Blue Frog, on March 7, 2009. It should be fun, and an opportunity to sing 'Campion Calls' out loud. In June last year, another '60s Indian rock band, The Savages, played a reunion gig at Not Just Jazz By the Bay'.

Says Ashok, "We arrived in Goa on February 21 and had exactly six days for practicing. We all returned to Mumbai on February 28. Considering that it has been 43 years since we were all in the same room it sounds surprisingly good. The instruments and voices are coming together, and settling into a groove reminiscent of the past." The band members say triumphantly, "It was great. It felt like we were never apart."

Devieka adds, "I am just so amazed to watch these guys pick up from where they started. They decided around four years ago to try and put together a reunion. It seemed quite far-fetched at the time but I was with them in Goa, watching them play, and it was quite special. By the way, they had planned their reunion before Rock On!! was conceived! The movie could be their story."

A week from now, four men on stage and a manager not quite so sprightly, not quite so young and certainly earning far more than the princely sum of Rs 3,000 they earned during their musical tour to Calcutta where they performed at The Grand Hotel, will strive to prove that great music and happy endings do not just happen on celluloid.